Tree of Knowledge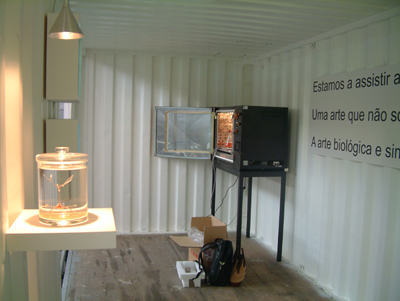 The project Tree of Knowledge explores interac- tions between art and science by using novel cell imaging and tissue culture technologies in order to create live sculptures. When creating a sculpture, the choice of medium is critical as it directly has an effect on how the sculpture is experienced. For example, the same object made of wood, stone or steel can have a different meaning, and can drive a different response in the beholder. When considering what would be the most adequate medium to represent the 3D structure of neurons, I concluded that I ought to use neurons themselves. By covering a scaffold with live neurons, or by filling glass tubes with these cells, one can achieve a representation of the delicate structure, maintaining the dynamic nature of a neuron: always changing, establishing new connections, eliminating old ones, growing, living. It is important to note that this strategy is not an attempt to represent reality as accurately as possible, but simply to explore the material that seems more adequate to represent such a living object. Such sculptures are a form of art that is literally alive.


proteic portrait:mArta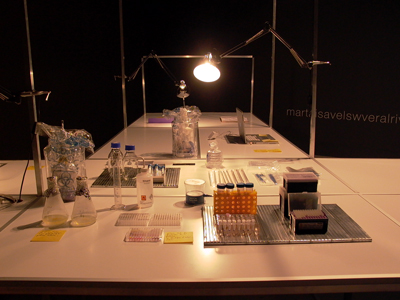 Proteic Portrait is an art Project where the artist Marta de Menezes portraits herself through different media. Her artistic self-portrait uses technology and scientific knowledge borrowed from biology in its way to materialization. It is a research process that, like many of her other projects, crosses not only the art historical conventions and artistic creation, but also the technical process, the jargon and graphic conventions of science and technology.
MARTAISAVELSWVRALRIVEIRDEMENESESDASILVAGRACA is the translation of her long name to a sequence of amino-acids that form the mArta protein. Producing the mArta protein, the artist portrays herself through a complex network of personal connections, with entities and institutions which identify her personality and herself intimately. The project follows a clear scientific protocol, with a positive tone: in search for the molecular structure of the new protein, artificially created, and that portrays her through her long Portuguese name. In her own words: ?the proteic portrait will only be finished when the true structure of mArta will be uncovered?.
This work was developed in the Structural Biology lab in Oxford University with the help of Professor Yvonne Jones and Dr. Radu Aricescu. It was commissioned by   the MEIAC museum in Badajoz Spain and curated by Ines Moreira.


In the beginning there was the Word


Where are you from?
I come from a very ancient family going back thousands of years, since my ancestors were unicellular life beings. Through a slow evolutionary process, I come from basic biology, being today complex biology.
I come from a catholic family, as the majority of southern Europeans. I come from an education acquired in a catholic school run by Dominican Irish nuns. I come from a regular participation in catholic rituals and practises, in a country where religion has significant importance.
I come from one of the poorest and most beautiful regions of Portugal. I come from a place where extensive fields of crops meet the Atlantic ocean ? where the waves in the fields mirror the waves in the sea.
I come from Art and I married Science.
Marta de Menezes, September 2007
–
Marta de Menezes is a Portuguese artist with a degree in Fine Arts by the University in Lisbon, and a MSt in History of Art and Visual Culture by the University of Oxford. She has been exploring the intersection between Art and Biology, working in research laboratories demonstrating that new biological technologies can be used as new art medium. In 1999 de Menezes created her first biological artwork (Nature?) by modifying the wing patterns of live butterflies. Since then, she has used diverse biological techniques including functional MRI of the brain to create portraits where the mind can be visualised (Functional Portraits, 2002); fluorescent DNA probesto create micro-sculptures in human cell nuclei (nucleArt, 2001); sculptures made of proteins (Proteic Portrait,2002), DNA (Innercloud, 2003) or incorporating live neurons (Tree of Knowledge, 2005). Her work has been presented internationally in exhibitions, articles and lectures. She is currently the artistic director of Ectopia, an experimental art laboratory within a biological research institute.