Mphil/ PhD Candidate, CAIIA(Centre for Advanced Inquiry in the Interactive Arts)/ Planetary Collegium, Plymouth
http://natasha.cc
Interview with Natasha in FutureBlogger, 2007
HYBRID FUTURES — The Convergence of Art and NBIC
The phrase nano-bio-info-cogno describes the technologies and sciences of nanoscience and nanotechnology; biotechnology and biomedicine, including genetic engineering; information technology, including advanced computing and communications; and cognitive science, including cognitive neuroscience.  These fields are often referred to as NBIC.
There are many questions and concerns about whether or not enhancing the human physiology is advantageous and there is deep interest in the ratio of positive vs. negative outcomes of human enhancement.  Nevertheless, the majority of this literature reports a consensus of opinion that NBIC technologies — separately or together — will inevitably affect human biology and increase human lifespan, including what it means to be human.
While artistic works extend, augment, manipulate, and enhance the human in corporeal and non-corporeal states by judiciously appropriating the technologies of respective eras, why is there a lack of attention paid to human transitions into semi and non-biological states of existence?  Is there an artificial boundary by which augmentations and extensions of the human go only so far, but not too far?
Hybrid futures is the supposition that while the human may or may not be the hybrid offspring from the Neanderthal breeding with the Cro-Magnon, and while the human may or may not be the composite life form which houses 1,000 species and their respective cells, only one-tenth of which contains human DNA, the hybrid human may truly be found in the future.  What might artists grasp from this observation and this future prospect?  With this in mind, my talk will address hybrid futures at the convergence of art and NBIC.
—
Education
PhD Candidate — Planetary Collegium Centre for Advanced Inquiry in the Interactive Arts,
Facility of Technology, University of Plymouth, England
Masters of Science — University of Houston - Future Studies Program
Art Masters Program — Academia Bella Arte (Ravenna, Italy)
Bachelors of Fine Art — University of Memphis
Future Studies — UCLA Extension (Cosmology, Social Science, Futurism)
American Muscle & Fitness Association (Certified Personal Trainer)
American Muscle & Fitness Association (Certified Nutritionist)
Blackstone School of Law — (Paralegal certificate)
University of California Los Angeles — (Technical Writing)
HTML Writers Guild — (Animation Certificate)
Affiliations
Extropy Institute — Core Group, 2007, President, 2000-2006
Transhumanist Arts & Culture — Founder and Director, 1983-2007
H+ Laboratory - Artistic Director
Center for Responsible Nanotechnology - Task Force, 2007
World Transhumanist Association — Honorary Vice Chair, 2000-2007
Alcor Foundation, Council of Advisors, 1999-2007
Zero Gravity Arts Consortium - Advisory Board, 2007
Foresight Institute — Senior Associate, 1995-2007
Screen Actors Guild — Actor, 1991-2007
EZTV— Artist of the Month series
—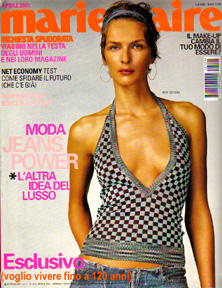 PERSONAL ENDORSEMENTS AND COMMENTS
The lovely Natasha, artist and body builder!
Geraldo Rivera, The Geraldo Rivera Show
There is something very special about Natasha's (f/k/a Nancie Clark) art. There is a great clarity — this fine young artist will give people something with which they can live forever. Good luck, Natasha! Fondly, Paul Kohner, Paul Kohner Talent Agency
Your work deserves to be seen by the world. Keep your magic!
Volker Schloendorff, (Academy Award Film Director, The Tin Drum)
You are a catalyst in the virtual salon of ideas.
Dr. Timothy Leary
Natasha Vita-More is an artist with a quality of warmth and depth. She is an artist whose time has arrived.
George Slaff, (Former Mayor of Beverly Hills)
… a woman of strong and magical style …
Warren Beatty, film actor/director
A superhuman object of desire combining Madonna, Schwarzenegger, and Marcel Duchamp.
Matthew DeBord, Atlantic Unbound, contributing editor of Feed
Your head should be preserved!
Christina Ferrera, TV host Home and Family