Pioneer of telematic art, founder of the Planetery Collegium, and technoetic syncretist.
- Professor of Technoetic Arts, Faculty of Technology, University of Plymouth UK
- Director, Technoetic Arts Ltd. Bristol, UK.
- Visiting Professor (VI), Design|Media Arts, School of the Arts, University of California Los Angeles
- Honorary Professor of Thames Valley University, London, UK.
- Founding Editor, Technoetic Arts, a Journal of Speculative Research. Intellect Ltd. Bristol, UK. (since 2002)
http://en.wikipedia.org/wiki/Roy_Ascott
BEING VARIABLE:
the syncretic self in technoetic space.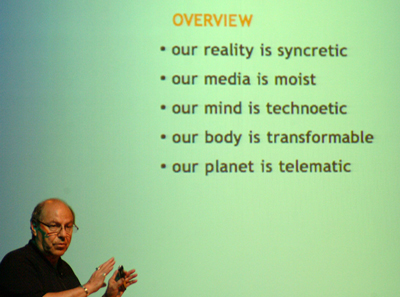 We are living in a time of the transient hypothesis, the infinitely mobile point of view, the flexible text, and a transformative art, where  permissive paradox prevails and incompleteness is the form. We fly on the wings of aporia, where everything may be what it seems not to be, bathed in a negotiable semiosis. We are living in the time of the multiple self, marked by the identity of ambiguity, acting in a variety of realities, which are themselves incomplete and generative. This is perhaps the most hopeful time in our assumed evolutionary ascent, where technoetics  is leading us beyond our current materialist  sentience towards a vastly expanded consciousness, a route that also revisits ancient pharmacological knowledge. If  Second Life has achieved anything in the short time span of its forming, it is the interrogation of the nature of consciousness that it provokes. Where is the mind located when identity is as much bound up in an avatar — or across a whole range of constructed personae — as it is in a physical body?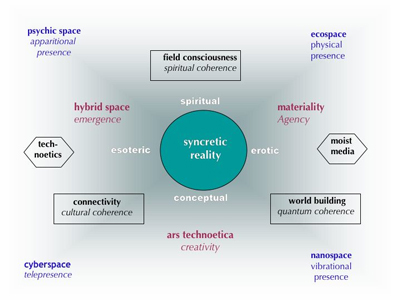 Where is the material self located in the immaterial network environment? What can be said about the telematic mediation of emotion, the propagation and distribution of feelings across networks, or of that extended empathy that releases the locked-in, "unified" being of he old Western culture. Our reality is not only richly varied, but also richly variable. Charles Fourier's laws of passionate attraction are more app
licable to our transient states of being than those enshrined in Newton's Principia. The social visionary was right in prioritising aporiatic butterfly mind over tunnel vision, his principle of papillonage precisely attuned to our connective intelligence. The craving for variety, the frequency of changes in occupation and identity, geographical and cultural mobility, typifies the hybridity of being in our variable reality.
—
Ascott's work involves the exploration of what he terms cyberception, "telenoia", syncretism, technoetics and moistmedia in art. In Ascott's view:
"We are simultaneously present in many realities: physical presence in ecospace, apparitional presence in spiritual space, telepresence in cyberspace, and vibrational presence in nanospace. Second Life is the rehearsal room for a future in which we endlessly create and distribute our many selves. What we build today in cyberspace, we'll build tomorrow in nano space. The new art media is immaterial and moist, numinous and grounded, while the technoetic mind both inhabits the body and is distributed across time and space. Art and reality are becoming syncretic as these contradictions are reconciled, and differences melded. Syncretic reality emerges from the cultural coherence of intensive interconnectivity, from quantum coherence at the base of our world-building, and from the spiritual coherence of our multi-layered consciousness".